Eating Disorder Resources for Those Who Are Struggling
At Renfrew, we have the greatest respect for those who have the courage to acknowledge they need the help and support of a healing community. You may be suffering, not just in silence, but also in isolation.
At The Renfrew Center, you are no longer alone.
We offer a nurturing environment that allows you the time and space to discover your own truth and find your voice. The Renfrew community values you as an individual, honors your emotions and experiences and will support and empower you to learn the skills needed to recover from your eating disorder.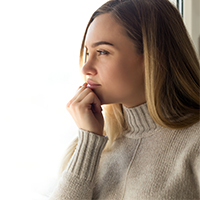 Is It Really an Eating Disorder?
We live in a culture obsessed with weight, shape and size, so it can be difficult to recognize when a person's thinking or behavior has become dangerous. Many individuals with eating disorders are in denial and may try to hide it. While some warning signs might be easier to spot, other symptoms may not. Learn more about the signs and symptoms of various eating disorders here:
What to Expect at Renfrew
We welcome adolescent girls and women of all ages, as well as transgender and non-binary gender individuals—at all locations—and will match you with the most appropriate and effective level of care. Our goal is for every patient to reach full and lasting recovery. That is why, in addition to our evidence-based treatment approach, we offer specialty programming to meet each patient's individual needs.
Recovery is Possible
Recovery is within reach–even when it does not feel like it. Our research of Renfrew treatment outcomes shows that patients not only make progress during their time at Renfrew, but they continue to improve even after they leave our treatment program.
Find Your Renfrew Location
Renfrew's extensive network of eating disorder treatment facilities allows us to provide our patients with a full continuum of care, no matter their location.
When I was in high school, I was the overachiever and I was already starting to venture into [eating disorder patterns].


It wasn't until my sophomore year in college that I realized I couldn't handle
it anymore.


I came in and said, "Okay, here are my boxing gloves. I'm ready to relinquish this fight because I'm so tired of it."


The one thing I love the most about recovery is I'm able to be present with my kids. If I were still active in my eating disorder, I wouldn't have the ability to have that kind of connection with another person.


Cynthia M.
Coconut Creek, FL
Talk with a Program Information Specialist at the number above to learn more about our
services and to schedule an assessment. Or, fill out the information below and we will contact you.