Signs, Symptoms & Treatments
Binge Eating Disorder (BED) is driven by cycles of dietary restriction and deprivation, along with complex social and emotional factors, affecting people of all races and genders. During episodes of binge eating, individuals experience a sense of loss of control over their eating followed by feelings of guilt and shame. These eating patterns provide short-term relief from painful emotions but, eventually, the emotions return — often more intensely. It is common for those who have a diagnosis of BED to also experience co-occurring psychiatric conditions such as depression, anxiety, PTSD, and substance use.
Is It Really an Eating Disorder?
We live in a culture with rigid ideals about food, weight and size, so it can be difficult to recognize when your thoughts and behaviors have become dangerous. Take a quiz and find out.
Characteristics of Binge Eating Disorder
Individuals with BED suffer from the same emotional struggles as those with other eating disorders. They have found their coping mechanism through episodes of binge eating – eating large amounts of food, often feeling out of control and past feeling full. Those with BED often experience a great deal of shame with their behaviors. Many individuals with BED identify patterns of restricting their food during the day and binge eating out of great hunger and emotional chaos at night.
Binge Eating Disorder Warning Signs
BED can have serious medical consequences including gastrointestinal issues, chemical imbalance and an overall loss of energy and vitality. Key signs you or someone you know may be struggling with BED include:
Consume large quantities of food when not physically hungry
Fear of eating in public or around others
Loss of control overeating and eating until uncomfortably full
Rapid consumption of food
How to Help Someone with Binge Eating Disorder
Individuals with eating disorders deserve and require professional evaluation, diagnosis and treatment. Parents, family or friends—in collaboration with a mental health professional—can play an active and essential role in restoring healthy eating. Reach out to a Renfrew Program Information Specialist to schedule a FREE assessment or to learn more about our services.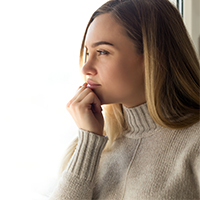 Effectively Treating Binge Eating Disorder
Recovery means much more than just stopping dieting, restricting, binge eating, and purging. It also means identifying the patterns, thoughts, behaviors, and emotions that underlie disordered eating – and working to build emotional tolerance so that individuals no longer need eating disorder symptoms as a means of coping.
Talk with a Program Information Specialist at the number above to learn more about our
services and to schedule an assessment. Or, fill out the information below and we will contact you.