Signs, Symptoms & Treatments
Anorexia (clinically known as anorexia nervosa) is self-imposed starvation. It is a life-threatening disorder that affects all races and genders, and usually stems from underlying emotional causes. People with anorexia continually deny their hunger and often limit or restrict other parts of their lives in addition to food—relationships, social activities or pleasure. It is common for those who have a diagnosis of anorexia to also experience co-occurring psychiatric conditions such as depression, anxiety disorders (especially social anxiety and OCD), PTSD, and substance use. Anorexia can cause serious medical problems and even lead to death.
It is important to note that anorexia can occur at any body weight or size. Contrary to many beliefs, individuals can engage in restrictive eating behaviors without meeting the low weight criteria for the diagnosis of anorexia. This is what is known as "Atypical Anorexia" and this condition can cause serious medical problems.
Is it Really an Eating Disorder?
We live in a culture with rigid ideals about food, weight and size, so it can be difficult to recognize when your thoughts and behaviors have become dangerous. Take a quiz and find out.
Characteristics of Anorexia?
Individuals with anorexia nervosa have an intense fear of gaining weight and high levels of body dissatisfaction. These individuals typically restrict their food intake by cutting out food groups or reducing their caloric intake overall. Those with anorexia may also be suffering from a subtype of anorexia that includes binge eating and purging behaviors in addition to the restrictive intake.
Anorexia Warning Signs
Anorexia symptoms are usually due to malnutrition. Key signs you or someone you know may be struggling with anorexia include:
Decreased food and nutrition intake
Preoccupied with food, calories, nutrition, or cooking
Frequently checking body weight
Continues to diet or restrict foods
Distorted body image
Feel cold even though the temperature is normal
Denies hunger
Exercises obsessively
Hair loss or begins to experience thinning hair
How to Help Someone With Anorexia
Individuals with eating disorders deserve and require professional evaluation, diagnosis and treatment. Parents, family or friends—in collaboration with a mental health professional—can play an active and essential role in restoring healthy eating. Reach out to a Renfrew Program Information Specialist to schedule a FREE assessment or to learn more about our services.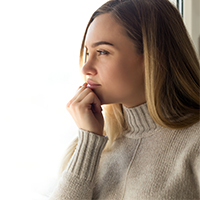 Effectively Treating Anorexia
Recovery means much more than just stopping dieting, restricting, binge eating, and purging. It also means identifying the patterns, thoughts, behaviors, and emotions that underlie disordered eating – and working to build emotional tolerance so that individuals no longer need eating disorder symptoms as a means of coping.
Talk with a Program Information Specialist at the number above to learn more about our
services and to schedule an assessment. Or, fill out the information below and we will contact you.