Signs, Symptoms & Treatments
Bulimia (clinically known as bulimia nervosa) is the repeated cycle of out-of-control eating followed by some form of purging. The purging associated with bulimia may take many forms: self-induced vomiting, excessive use of laxatives or diuretics, or obsessive exercising. People with bulimia often feel out of control in many areas of their lives. Affecting all races and genders, individuals with bulimia commonly experience co-occurring psychiatric conditions such as depression, anxiety, PTSD, and substance use.
Is It Really an Eating Disorder?
We live in a culture with rigid ideals about food, weight and size, so it can be difficult to recognize when your thoughts and behaviors have become dangerous. Take a quiz and find out.
Characteristics of Bulimia
Individuals with bulimia nervosa engage in cycles of binge eating and purging behaviors. Classifying binge eating can be subjective. Some individuals may consider a "normal" amount of food a binge. Either way, the binge experience feels out of control to the individual and oftentimes leads to feelings of shame and guilt. Purging may include any compensatory behaviors such as the use of laxatives, diuretics or other weight loss aids, vomiting, or excessive exercise. While the behaviors often feel impulsive, at times they may be planned and well thought out as another way of avoiding strong emotions.
Bulimia Warning Signs
Bulimia can have serious medical consequences including dental and esophageal problems, kidney damage, chemical imbalance, and an overall loss of energy and vitality. It is a serious eating disorder and can be fatal. Key signs you or someone you know may be struggling with bulimia include:
Engaging in binge eating and cannot voluntarily stop
Frequent use of the bathroom after meals
Reacting to emotional stress by overeating or purging
Feelings of guilt or shame regarding eating
Feeling out of control
How to Help Someone With Bulimia
Individuals with eating disorders deserve and require professional evaluation, diagnosis and treatment. Parents, family or friends—in collaboration with a mental health professional—can play an active and essential role in restoring healthy eating. Reach out to a Renfrew Program Information Specialist to schedule a FREE assessment or to learn more about our services.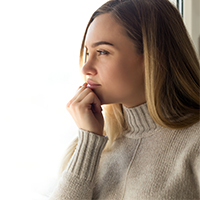 Effectively Treating Bulimia
Recovery means much more than just stopping dieting, restricting, binge eating, and purging. It also means identifying the patterns, thoughts, behaviors, and emotions that underlie disordered eating – and working to build emotional tolerance so that individuals no longer need eating disorder symptoms as a means of coping.
Talk with a Program Information Specialist at the number above to learn more about our
services and to schedule an assessment. Or, fill out the information below and we will contact you.