Meeting You Where You Are
Eating disorders can impact anyone regardless of race, gender, age, sexual orientation, and body size. The Renfrew Center specializes in empowering adolescent and adult females, transgender and gender non-binary individuals.
The Renfrew Center's virtual treatment brings compassionate, evidence-based care to you. Patients and families receive the same structure and care offered in our in-person programs, ensuring a strong foundation for lasting recovery.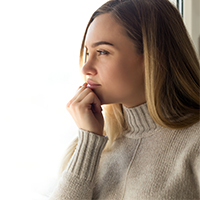 Comparing Virtual and In-Person Eating Disorder Treatment Outcomes
Data from this multi-year project showed individuals enrolled in in-person and telehealth partial hospital programs showed similar improvements in eating disorder symptoms, depression, and emotional avoidance by the end of treatment and at the six-month follow-up time point. Improvements made by the end of treatment were maintained or continued to improve by the time of the six-month follow-up.
Is Virtual Treatment Available To Me?
Virtual programs mirror our in-person, evidence-based programming and are available in 30 states throughout the country. To get started all you need is a reliable internet connection and a tablet, desktop or laptop computer with a camera, microphone and speakers. To learn more, please call 1-800-RENFREW.
Frequently Asked Questions?
Here are some commonly asked questions about Renfrew@Home. For a full list of frequently asked questions, please visit our FAQs page.
What is virtual treatment?
Virtual treatment brings the elements of our in-person programming onto a telehealth platform. Often times, patients experience barriers in accessibility to treatment; virtual programming is available to patients and families no matter their geographic location, transportation access, or mobility. Patients log on for supported meals and snacks, group, family and individual therapy, nutrition and medication management services. With the goal of keeping treatment engaging and relational, patients join a virtual community with patients across their region, led by a multidisciplinary team trained in best telehealth practices.
Is virtual treatment as effective as in-person treatment?
Renfrew@Home mirrors our in-person, evidence-based programming and is an equally effective option. Our research has shown no significant difference between those who received in-person treatment and those who received virtual – all show the same improvement in eating disorder symptoms, anxiety, experiential avoidance and relational connection with the treatment team.
Renfrew published a groundbreaking study in 2023 summarizing treatment outcomes for both our in-person and virtual partial hospital programs. This research can be found here.
What are meals like in virtual treatment?
Our goals are for patients to experience meaningful autonomy and socialization in their meal process. Patients follow menus created by their dietitian, that acknowledge preferences, challenge foods, ingredients available at home, and traditional cultural or religious cuisines. Patients and providers all eat their meals together onscreen, with an opportunity for relational connection and group support. Patients will slant their cameras toward both themselves and their food, to ensure proper eating on camera. Before, during, and after the meal, the clinician will check in with patients on their physical hunger and fullness levels, completion of the meal components, and emotional experience.
What if I don't have internet access at home?
A reliable internet source and a private space is required to participate in Renfrew@Home. If you do not have access to the internet, we will work with you to identify a space that meets these needs like a support person's home or local business.
Does Renfrew accept insurance for virtual treatment?
Yes, we accept insurances for virtual treatment. Whether in person or virtual, The Renfrew Center has contracts with most managed care companies for all levels of care and is a preferred provider for a great number of insurance companies. We also routinely petition out-of-network carriers to extend benefits to their members.
Talk with a Program Information Specialist at the number above to learn more about our
services and to schedule an assessment. Or, fill out the information below and we will contact you.