Virtual Intensive Outpatient Treatment
Renfrew's Intensive Outpatient Program (IOP) is a treatment option designed for those who need more support than standard outpatient therapies offer. As with all of our programs, IOP creates a therapeutic community, where relationships are developed based on mutual sharing and support. It is held three times per week and is ideal for individuals who need greater support than traditional outpatient therapy.
Like all of our programs, Day Treatment follows The Renfrew Center's Unified Treatment Model for Eating Disorders®, designed to build emotional tolerance and resilience in the face of distress and difficult experiences.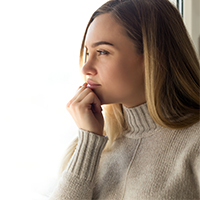 What Does Virtual IOP Include?
1 supported meal per day
Psychiatric services as needed
Nutrition consultation
Group therapy
Psychoeducation
Is Virtual Treatment Right for Me?
Virtual programs mirror our in-person, evidence-based programming and are available in 30 states throughout the country. To get started, all you need is a reliable internet connection and a tablet, desktop or laptop computer with a camera, microphone and speakers.
To learn more, please call 1-800-RENFREW.
Evidence-based Care
Our research shows no significant difference between in treatment outcomes between patients who receive virtual and those who receive in-person treatment—all show the same improvement in:
Eating disorder symptoms
Anxiety
Experiential avoidance
Relational connection with the treatment team
Alumni Testimonial
If Renfrew didn't offer virtual treatment, I don't know how I would have been able to attend programming. When you are working full time, being able to do sessions from the comfort of your home is everything. Plus, the virtual sessions meant less commute time, which meant I had more time for self-care, journaling, and doing what was required for the program. Being able to prepare my meals at home also taught me realistic ideas for what to eat post-treatment.
– Kristen C., [email protected] Alum
Talk with a Program Information Specialist at the number above to learn more about our
services and to schedule an assessment. Or, fill out the information below and we will contact you.