Signs, Symptoms & Treatments
The term "diabulimia" is clinically known as ED-DMT1 or eating disorder with type 1 diabetes. It is a life-threatening condition in which there is intentional manipulation of insulin (medication) for the purpose of weight loss or to prevent weight gain. Diabulimia can affect individuals of all ages, races and genders and can cause serious medical problems related to continued elevated blood glucose in the body, possibly turning fatal.
Is It Really an Eating Disorder?
We live in a culture with rigid ideals about food, weight and size, so it can be difficult to recognize when your thoughts and behaviors have become dangerous. Take a quiz and find out.
Diabulimia Warning Signs
Diabulimia is highly dangerous and can cause serious medical consequences. Key signs you or someone you know may be struggling with diabulimia include:
Significant weight fluctuations/loss
Poorly "controlled" diabetes
Unexplained repeatedly high blood glucose
Constant fatigue
Body image concerns
Obsessive reading of food labels
Frequent episodes of Diabetic Ketoacidosis (DKA)
How to Help Someone with Diabulimia
Early intervention is key if you or someone you know is suffering from diabulimia. Seeking medical attention will help in minimizing your risk for complications. Encourage them to talk with someone they trust about the behaviors – either a physician, counselor or support person. It can be difficult to take the steps to set up a professional evaluation, however, as a support person, you can listen and encourage them to seek treatment. Reach out to a Renfrew Program Information Specialist to schedule a FREE assessment or to learn more about our services.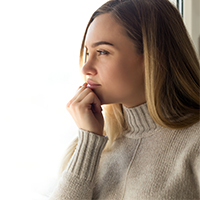 Effectively Treating Diabulimia
The treatment of an eating disorder coupled with type 1 diabetes requires a coordinated care approach, including an endocrinologist, diabetes educator/dietitian and support system. Recovery from diabulimia is much more than simply stopping insulin manipulation – it involves exploring the emotional factors that contribute to maintenance of the eating disorder symptoms and poor diabetes management.
Someone living with type 1 diabetes has the constant pressure to maintain a specific blood glucose level which often leads to a preoccupation around food and numbers to ensure appropriate calculations. Many patients attribute taking insulin with weight gain, which is often the precursor to developing ED-DMT1.
Talk with a Program Information Specialist at the number above to learn more about our
services and to schedule an assessment. Or, fill out the information below and we will contact you.