Renfrew's Day Program is one of two innovative and dynamic treatment options designed for those who need more support than standard outpatient therapies offer but are not quite in need of a full Residential experience. It is held five days per week. Like all of our programs, Day Treatment follows The Renfrew Center's Unified Treatment Model for Eating Disorders®, designed to build emotional tolerance and resilience in the face of distress and difficult experiences.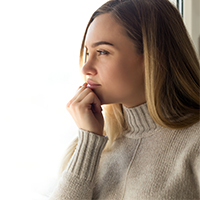 What Does Virtual Day Treatment Include?
Group and individual therapy
2 meals per day and snacks
Expressive therapies
Medication management
Nutrition therapy
Psychoeducation
Weekly psychiatric evaluation and follow-up
Is Virtual Treatment Right for Me?
Virtual programs mirror our in-person, evidence-based programming and are available in 30 states throughout the country. To get started, all you need is a reliable internet connection and a tablet, desktop or laptop computer with a camera, microphone and speakers.
To learn more, please call 1-800-RENFREW.
Evidence-based Care
Our research shows no significant difference between in treatment outcomes between patients who receive virtual and those who receive in-person treatment—all show the same improvement in:
Eating disorder symptoms
Anxiety
Experiential avoidance
Relational connection with the treatment team
Alumni Testimonial
I am grateful for Renfrew's virtual programming. Virtual programming is helpful because it provides structure to my days. I feel supported around meals, as we follow our usual menus, make our own selections, and eat with our peers and supportive staff. All online groups have been consistent with how they were when we were together at the center. I am someone who really values and appreciates personal attention from my team, and I feel I still absolutely get that in the virtual format.
– Alum of Renfrew@Home
Talk with a Program Information Specialist at the number above to learn more about our
services and to schedule an assessment. Or, fill out the information below and we will contact you.