Eating Disorder Support Resources After Treatment
Through Renfrew's nationwide alumni community, we work to support you and meet your needs at every stage of recovery. Renfrew has provided care to over 100,000 patients since our founding in 1985, and we continue our commitment to provide you with resources, from both staff and fellow alumni, to build lasting recovery and the life you deserve.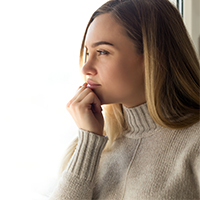 From Our Alumni Services Coordinator
Recovery is a process that continues after eating disorder treatment is completed—it requires support, focus and motivation. As the Alumni Services Coordinator for The Renfrew Centers, I serve as the liaison between you and the services Renfrew offers. Recovery cannot be achieved or maintained in isolation; a network of recovery-focused resources and supportive community is important, especially in ongoing recovery.
I am pleased to be your connection to the Renfrew Alumni Services network. We provide many opportunities for you and your loved ones to access as you grow in recovery. Know that Renfrew is here for you along your journey!
-Erin Birely, LCPC
Is This Relapse?
The road to recovery can sometimes be a bumpy one. Slip-ups may occur and are part of the process—occasionally, these challenges may lead to relapse. Below are a few signs to help you determine if you should seek additional support:
You are experiencing a re-emergence of symptoms that follow a pattern and feel unmanageable.
You are secretive and dishonest around symptoms with your therapist, family and/or friends.
Your loved ones notice a return to old patterns and behaviors.
You avoid events that have food involved and isolate from others.
You feel an overall sense of hopelessness.
If you are currently experiencing any of these signs of relapse, do not hesitate to Contact Us.
Support Opportunities
Thank you for allowing The Renfrew Center to be an integral part of your recovery journey. Once you become a Renfrew alumni, you are affiliated for a lifetime! Stay connected with us through the following:
Find Your Renfrew Location
Renfrew's extensive network of eating disorder treatment facilities allows us to provide our patients with a full continuum of care, no matter their location. Each site has an Alumni Representative to keep you connected with support opportunities—for more information, contact [email protected].
Talk with a Program Information Specialist at the number above to learn more about our
services and to schedule an assessment. Or, fill out the information below and we will contact you.