Eating Disorder Resources for Loved Ones
Eating disorders profoundly affect family and friends too. It can be difficult to watch your loved one suffer and confusing to know what to do to help. We strongly believe that a patient's personal network can be a valuable source of support throughout their stay and long after they return home.
In choosing Renfrew for your family member or friend, you can rest assured that you will receive the support and expertise you need, and your loved one will receive the help and care they deserve.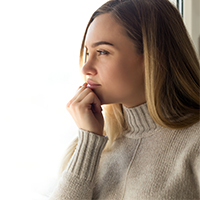 Is It Really an Eating Disorder?
We live in a culture obsessed with weight, shape and size, so it can be difficult to recognize when a person's thinking or behavior has become dangerous. Many individuals with eating disorders are in denial and may try to hide it. While some warning signs might be easier to spot, other symptoms may not. Learn more about the signs and symptoms of various eating disorders here:
Family Involvement During Eating
Disorder Recovery
Loved ones are an incredibly valuable source of support for those struggling with an eating disorder. To maintain family involvement in treatment, and to provide support as your loved one recovers, Renfrew offers:
Family Therapy
Family Days
Multi-Family Groups
Parent Groups
What to Expect at Renfrew
We welcome adolescent girls and women of all ages, as well as transgender and non-binary gender individuals—at all locations—and will match you with the most appropriate and effective level of care. Our goal is for every patient to reach full and lasting recovery. That is why, in addition to our evidence-based treatment approach, we offer specialty programming to meet each patient's individual needs.
Find Your Renfrew Location
Renfrew's extensive network of eating disorder treatment facilities and virtual services allow us to provide our patients with a full continuum of care, no matter their location.
Talk with a Program Information Specialist at the number above to learn more about our
services and to schedule an assessment. Or, fill out the information below and we will contact you.