Eating Disorder Resources for High Schools and Colleges
Making the transition to high school or college can be challenging for many students, particularly for those with an eating disorder. Maintaining good physical and emotional health lays the foundation for being successful in school and staying focused on achieving academic and career goals as well as taking advantage of new interests and friendships. Students' mental and physical well-being is inextricably linked with their ability to participate in classes, clubs or sports and handle the rigor of increasingly more challenging workloads.
The Renfrew Center is here as a resource for both you and your students.
With 19 sites and virtual services available across the country, Renfrew provides a clinically consistent continuum of care which allows students to pursue treatment close to home or near campus. We accept more than 400 insurance plans nationwide, including student health plans. That means treatment at Renfrew remains affordable and accessible for students and their families.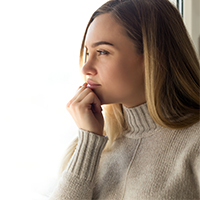 What Can Renfrew Do For You?
We know the critical role teachers, coaches, school counselors, and administrators play in a student's continued recovery. Here are some things Renfrew can do for you:
Incorporating Eating Disorder Awareness into Education
Below are a few ways to promote eating disorder prevention and awareness among your students:
Develop health class curricula about size and shape diversity, eating disorders, disordered eating patterns, body image concerns, and why diets do not work.
Plan activities for National Eating Disorders Awareness Week, held in February of each year and Weight Stigma Awareness Week, held in September of each year.
Help students understand advertising ploys that promote body image dissatisfaction and join in efforts against the cultural idealization of thinness.
Click here to contact your local Renfrew Professional Relations Representative for more suggestions and resources.
Be a role model – avoid complimenting students who have lost weight and refrain from participating in diet, weight or shape talk.
Train students and start peer support groups to help those whom they suspect might have a body image concern or an eating disorder.
Support During Eating Disorder Recovery
Students, whether living at home or away from home, may often have individuals outside their family they have come to rely upon for support, advice and companionship. These relationships can be with roommates, partners, teammates, or close friends—anyone the student identifies as an important part of their life. Renfrew provides treatment locally or virtually through family therapy and Renfrew support services to engage supports in the treatment and recovery process. We also offer community-building programs, in addition to our core treatment programs, to ensure that long-term options are available as ongoing resources for our patients.
Find Your Renfrew Location
Renfrew's extensive network of eating disorder treatment facilities allows us to provide our patients with a full continuum of care, no matter their location.
Talk with a Program Information Specialist at the number above to learn more about our
services and to schedule an assessment. Or, fill out the information below and we will contact you.