Thriving in Recovery: A Story of Hope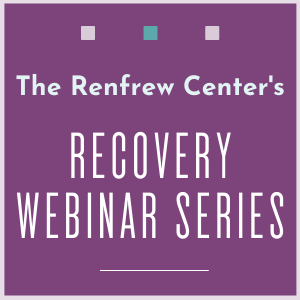 Thriving in Recovery: A Story of Hope
Wednesday, December 8, 2021 • 12:00 pm - 1:00 pm (ET)
Free | Live Interactive Webinar
12:00 pm - 1:00 pm (ET)
Presented by: Erin Birely, LCPC & Elizabeth Catanese, Renfrew Alum
Held Online
Everyone has a story. Elizabeth Catanese, Renfrew Alum and author of The College Mindfulness Workbook, will discuss how mindfulness, which she first (reluctantly!) learned about in treatment at Renfrew, has helped her to stay actively engaged in eating disorder recovery for over ten years. Elizabeth will lead attendees in a mindfulness activity from her workbook, with an opportunity for Q&A at the end facilitated by Renfrew's Alumni Services Coordinator, Erin Birely, LCPC.
For those who would like to purchase Elizabeth's workbook in advance of the webinar, please click here.
Note that you do not need to purchase the workbook to participate.
About the Presenter

Erin Birely, LCPC, is the The Renfrew Center's Alumni Services Coordinator. Prior to joining Renfrew in 2016, she worked in private practice as well as inpatient, partial and intensive outpatient levels of care. Ms. Birely has worked in the field of eating disorder treatment since receiving her Master's degree in 2012. She enjoys working with people to make positive and long lasting changes in life through therapy and building their emotional tolerance.
About the Presenter

Elizabeth Catanese, Renfrew Alum, is a writer and artist who holds degrees from Bryn Mawr College & Middlebury College. Her poetry has most recently appeared in The Night Heron Barks, Calyx, and The Pittsburgh Poetry Review. She is the author of the children's book series Mt. Olympus Theme Park and the college resource, The College Mindfulness Workbook. She enjoys bringing mindfulness practice to her students in her role as an associate professor of English at Community College of Philadelphia. She can be followed @singlemomtwins and @singlemomtwinsaffirmations on Instagram.
Talk with a Program Information Specialist at the number above to learn more about our
services and to schedule an assessment. Or, fill out the information below and we will contact you.