Voice of Inspiration: A Conversation With Alum Erica Leigh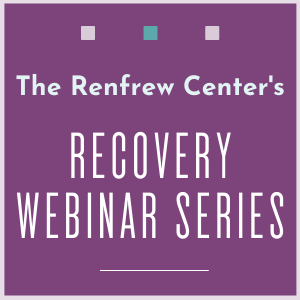 Voice of Inspiration: A Conversation With Alum Erica Leigh
Wednesday, June 7, 2023 • 12:00 pm - 1:00 pm (ET)
Free | Interactive Webinar
12:00 pm - 1:00 pm (ET)
Presented by: Erica Leigh, Alum & Erin Birely, LCPC - Alumni Services Coordinator, The Renfrew Center
Held Online
The journey of recovery can be arduous, humbling, fulfilling, and transformative. Most of all, it is possible! To honor the full recovery journey, this webinar will capture a rich conversation between Renfrew Alumna Erica Leigh and Renfrew Alumni Services Coordinator, Erin Birely, LCPC.
Eating disorder recovery is unique to each individual – there is no standard protocol for what life looks like after treatment. With this in mind, Erica will first share her story of recovery. Erin and Erica will then discuss how recovery is a journey rather than a destination, and provide insight into supportive strategies post-treatment. Facilitated by Erin, attendees will have the opportunity at the end to ask their own questions to Erica.
About the Presenter

Erin Birely, LCPC, started working as the Team Leader of The Renfrew Center of Baltimore in September 2016 and joined the Alumni Services Team in 2019 as the Alumni Services Coordinator. Prior to joining Renfrew, Erin had worked in private practice as well as inpatient, partial and intensive outpatient levels of care. Erin has worked in the field of eating disorder treatment since receiving her Master's degree in 2012. She enjoys working with people to make positive and long lasting changes in life through therapy and building their emotional tolerance.
Erica Leigh Averill is an alum of The Renfrew Center of Charlotte. She attended Savannah College of Art and Design (SCAD) and is passionate about artistic expression. Now representing North Carolina as Ms. North Carolina Petite 2023, her platform focuses on eating disorder awareness and treatment.
Talk with a Program Information Specialist at the number above to learn more about our
services and to schedule an assessment. Or, fill out the information below and we will contact you.