The Importance of Variety in Eating Disorder Recovery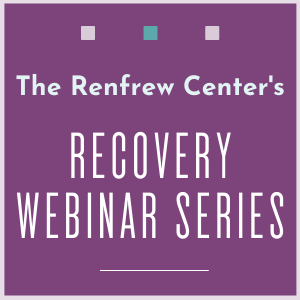 The Importance of Variety in Eating Disorder Recovery
Wednesday, March 16, 2022 • 12:00 pm - 1:00 pm (ET)
Free | Interactive Webinar
12:00 pm - 1:00 pm (ET)
Presented by: Kayla Wilson, MS, RDN, LDN - Director of Nutrition, The Renfrew Center of Philadelphia
Held Online
For those struggling with an eating disorder or disordered eating patterns, limiting the range of food intake is common. This webinar will explore the benefits of food variety—more specifically, how it applies to food neutrality and how it impacts various stages of recovery.  Attendees will learn the benefits of macronutrients and micronutrients, as well as methods to try new foods and gain awareness of how taste buds change over time.
In recognition of National Nutrition Month, join us for this educational presentation where you will leave with tools to expand food variety throughout your recovery.
About the Presenter

Kayla Wilson, MS, RDN, LDN, is Director of Nutrition at The Renfrew Center of Philadelphia – Spring Lane, PA. She received her Bachelor's degree in Nutrition and Dietetics as well as her Master's degree in Community Nutrition from West Chester University of Pennsylvania. Ms. Wilson specializes in eating disorders and clinical nutrition with a concentration on child and adolescent weight management. Prior to joining Renfrew, she worked at an eating disorder treatment facility (IOP/PHP levels of care) as well as in skilled nursing facilities and outpatient counseling with a focus in eating disorders. Ms. Wilson is a Penn State Master Gardener and a member of the American Dietetic Association, Behavioral Health Nutrition Dietetic Practice Group, and Hunger and Environmental Nutrition Dietetic Practice Group.
Talk with a Program Information Specialist at the number above to learn more about our
services and to schedule an assessment. Or, fill out the information below and we will contact you.