(Re-broadcast) Overcoming the Unknown: Maintaining Recovery in Uncertain Times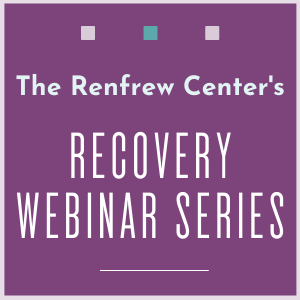 (Re-broadcast) Overcoming the Unknown: Maintaining Recovery in Uncertain Times
Wednesday, August 18, 2021 • 6:00 pm - 7:00 pm (EDT)
Free | Re-broadcast
6:00 pm - 7:00 pm (ET)
Presented by: Ava Pollack, MA, LCMHCA, Primary Therapist & Alumni Representative, The Renfrew Center of Charlotte
Held Online
The past year has presented a variety of challenges for everyone— limited social interaction, adjusting to a virtual school or work environment, possible income changes, travel barriers, and more. With so much uncertainty in the world, stress, anxiety, depression, and feelings of isolation are on the rise. For those struggling with an eating disorder, these conditions can potentially lead to a detour along the path to recovery.
This webinar will acknowledge the shared experiences among those in the eating disorder community during these unpredictable times. Attendees will participate in an activity exploring the process of control and learn how to tolerate the unknowns of recovery. Additionally, tools to deal with overwhelming experiences will be provided, and modes of support will be discussed.
About the Instructor

Ava Pollack, MA, LCMHCA, is a Primary Therapist and Alumni Representative for The Renfrew Center of Charlotte. She received her Bachelor's degree in Psychology from the University of Florida and her Master's degree in Mental Health Counseling from CUNY Baruch College. Ms. Pollack has experience working with adolescents and adults struggling with various eating disorder presentations (restriction, bingeing, purging, over-exercising, ARFID, orthorexia, etc.), body image concerns, depression, anxiety, OCD, self-harm, suicidal ideation, and trauma. Additionally, she volunteered with the National Eating Disorders Association (NEDA) and has presented on the topics of body image, social media and emotional eating to both the professionals and the community.
Talk with a Program Information Specialist at the number above to learn more about our
services and to schedule an assessment. Or, fill out the information below and we will contact you.