Making Peace with Your Body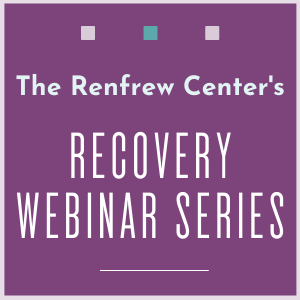 Making Peace with Your Body
Wednesday, September 29, 2021 • 12:00 pm - 1:00 pm (ET)
Free | Live Interactive Webinar
12:00 pm - 1:00 pm (ET)
Presented by: Adrienne Ressler, LMSW, CEDS-S, F.iaedp
Held Online
From the moment of birth, infants begin a relationship with their bodies and take delight in each journey of discovery and exploration. The language of the body is our first language – babies use non-verbal signals and sounds that communicate their needs to those closest to them. The body never loses its power to inform, express and connect, yet, many individuals who have been wounded emotionally or spiritually often detach from their emotions and body sensations when they are unable to find a vehicle for expression.
This webinar will help attendees recognize the importance of the body as an essential element for lasting change and will provide methods and experiential activities to aid in becoming "unstuck" from the negative rituals and beliefs that fuel their eating disorder.
About the Presenter

Adrienne Ressler, LMSW, CEDS-S, Fellow of iaedp, is Vice President, Professional Development, The Renfrew Center Foundation, and has served as senior staff since 1990. Adrienne attended the University of Michigan for both her Bachelor of Science and Masters degrees and received a faculty appointment as a Lecturer in the School of Education. A body image specialist, her trainings reflect her background in body-focused/somatic methods to treat eating disorders and body image. Past-President of the Board of Directors of iaedp, she is Co-founder and former Co-chairperson of the Somatic and Somatically Oriented Therapies Special Interest Group of the Academy of Eating Disorders. She serves on the Advisory Board of Eating Disorders Resource and Support based in Petaluma, CA. Adrienne was selected as the inaugural recipient of Eating Disorder Hope's Seal of Excellence award for her ''empowering work as a body image specialist." Author of chapters on the use of experiential and body-based therapies for eating disorders in three textbooks, Effective Clinical Practice in the Treatment of Eating Disorders: The Heart of the Matter, Treatment of Eating of Eating Disorders: Bridging the Research-Practice Gap, and Embodiment & Eating Disorders: Theory, Research, Prevention and Treatment, her work has also been included in the first Encyclopedia of Body Image and Human Appearance. In addition, she is published in Social Work Today and Pulse, the journal of the International Spa Association. A frequent contributor to the popular media, she has appeared on the TODAY show and Good Morning America Sunday.
Talk with a Program Information Specialist at the number above to learn more about our
services and to schedule an assessment. Or, fill out the information below and we will contact you.