Living in Your Body: Creating a Sense of Inner Well-Being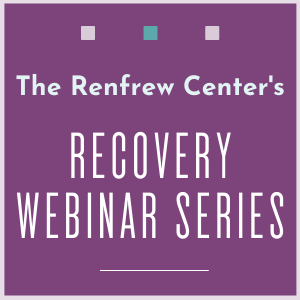 Living in Your Body: Creating a Sense of Inner Well-Being
Wednesday, December 6, 2023 • 12:00 pm - 1:00 pm (ET)
Free | Interactive Webinar
12:00 pm - 1:00 pm (ET)
Presented by: Susan Kleinman, MA, BC-DMT, NCC, CEDS-S, Dance/Movement Therapist, The Renfrew Center of Florida
Held Online
Our way of living in our body plays an important role in opening ourselves to the creativity that lives inside of us, awaiting our ability to notice it's inherent presence. In welcoming creativity and its existence into our "mind's eye", a sense of well-being can instantly emerge.
Join with us as we renew a sense of inner well-being and inspire discovery by taking meaningful actions. Participants will anchor in body and mind, and have the opportunity to engage in mindful movement during the webinar.
About the Presenter

Susan Kleinman, MA, BC-DMT, NCC, CEDS-S, is a Creative Arts Therapy Supervisor and Dance/Movement Therapist for The Renfrew Center of Florida. Ms. Kleinman is a trustee of the Marian Chace Foundation, Past President of the American Dance Therapy Association, and past Chair of The National Coalition for Creative Arts Therapies. She has published extensively, presented widely, and is the recipient of the American Dance Therapy Association's 2013 Lifetime Achievement Award and the 2014 Spirit of iaedp award. Her work is featured in the documentary entitled Expressing Disorder: Journey to Recovery.
Talk with a Program Information Specialist at the number above to learn more about our
services and to schedule an assessment. Or, fill out the information below and we will contact you.