Grieving the Promises of Diet Culture in Recovery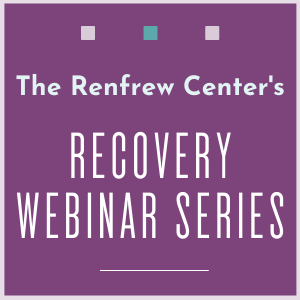 Grieving the Promises of Diet Culture in Recovery
Wednesday, March 29, 2023 • 12:00 pm - 1:00 pm (ET)
Free | Interactive Webinar
12:00 pm - 1:00 pm (ET)
Presented by: Meghan Brown, LMHC - Regional Admissions Team Leader, The Renfrew Center
Held Online
There is a reason that the diet industry amasses billions of dollars every year. It tells us that if we pursue thinness or wellness with enough drive and dedication that things will be easier, better, and brighter. It promises that if we achieve the ideal body, than other challenges won't be as hard.  It makes sense to align with a set of rules that are black and white and offer certainty: thinner is better, less is best, and rest is for the weak. Navigating these messages gets even more complicated in recovery when we encourage living in nuanced shades of grey.
This webinar will discuss the difficulties associated with divorcing yourself from diet culture in a society that remains firmly entrenched in its grasp. It will offer strategies to step away from anti-fat bias, and to engage with a more forgiving and compassionate view of wellness. Additionally, the presentation will provide resources to weave this alternative mindset into your daily life as you continue to pursue eating disorder recovery.
About the Presenter

Meghan Brown, LMHC, is a Regional Admissions Team Leader at The Renfrew Center. A Licensed Mental Health Counselor in the Commonwealth of Massachusetts, she received her Bachelor's degree in Psychology from The College of William and Mary where she engaged in research on body image improvement and eating disorder prevention in college-aged women. Ms. Brown received her Master's degree in Mental Health Counseling and Behavioral Medicine from Boston University where she trained to work with adolescents and adults in IOP, PHP, and residential levels of care. Prior to joining Renfrew, she worked with clients on both the generally psychiatric and eating disorder inpatient units at Walden Behavioral Care. Ms. Brown is passionate about client advocacy and eating disorder prevention.
Talk with a Program Information Specialist at the number above to learn more about our
services and to schedule an assessment. Or, fill out the information below and we will contact you.