(Re-broadcast) Trusting After Trauma: Connecting with Others and Improving Relationships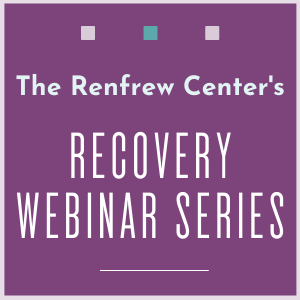 (Re-broadcast) Trusting After Trauma: Connecting with Others and Improving Relationships
Wednesday, July 21, 2021 • 6:00 pm - 7:00 pm (EDT)
Free | Re-broadcast
6:00 pm - 7:00 pm (ET)
Presented by: Lacey Vogel, LMHC - Team Leader, The Renfrew Center of Boston
Held Online
Individuals who suffer with both trauma and an eating disorder often struggle with trust in relationships. Those dealing with trauma often find safety and control in their eating disorder—in this way, eating disorder behaviors are commonly a response to thoughts of their experiences that can lead to dangerous long-term consequences.
This webinar will explore themes relating to trauma and identify stuck points that get in the way of building trusting relationships with others. Discussion will cover the connection to ourselves and our bodies as well as those around us, with a focus on effectively utilizing support systems. Additionally, attendees will be provided with skills to reduce PTSD symptom overload and how to work through challenging thoughts.
About the Instructor

Lacey Vogel, LMHC, is a Team Leader at The Renfrew Center of Boston. She joined the Boston team in 2017 as a Primary Therapist and was promoted to the Team Leader role in 2019. Ms. Vogel received her Bachelor's degree in Philosophy-Neuroscience-Psychology from Washington University in St. Louis, and her Master's degree in Mental Health Counseling and Behavioral Medicine from Boston University School of Medicine. She has extensive experience treating athletes with eating disorders and has a special interest in working with patients with trauma histories. Ms. Vogel oversees the Trauma Track for patients at the Boston site. Prior to joining Renfrew, she worked at an adolescent day treatment program for those diagnosed with major mental illness. She also has a background working with all genders and ages with eating disorders at the residential, partial hospitalization and intensive outpatient levels of care.
Talk with a Program Information Specialist at the number above to learn more about our
services and to schedule an assessment. Or, fill out the information below and we will contact you.