Embodied Exercise Practices in Recovery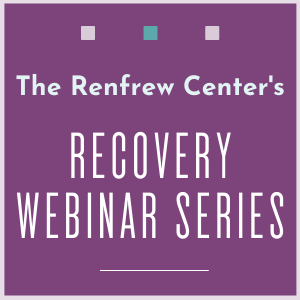 Embodied Exercise Practices in Recovery
Wednesday, November 17, 2021 • 12:00 pm - 1:00 pm (ET)
Free | Live Interactive Webinar
12:00 pm - 1:00 pm (ET)
Presented by: Becky Mehr, MS, RDN, CEDRD-S, LDN & Kristen Raspanti, BSHS, MOT
Held Online
Movement can be a major challenge for individuals in eating disorder recovery. Whether exercise is something you enjoy, avoid or are apathic towards, there is a relationship with your body through movement that can become intertwined with the eating disorder and impact recovery.
During this webinar, the motivation behind exercise and how to develop a positive relationship with physical activity will be explored. Attendees will learn tools to assist with identifying values related to physical activity, understand the motivation for exercise and impact of movement on recovery (nutrition, therapy and distress tolerance).
About the Presenter

Becky Mehr, MS, RD, CEDRD-S, LDN, is Director of Outpatient Nutrition for The Renfrew Centers and serves as the Registered Dietitian at The Renfrew Center of Nashville. Ms. Mehr received her Bachelor's degree in Dietetics from Lipscomb University and her Master's degree in Clinical Nutrition from the University of Memphis. Her presentations locally and nationally focus on the topics of exposure therapy, diabetes and eating disorders. She is a member of the Academy of Nutrition and Dietetics, the International Association of Eating Disorders Professionals (iaedp) and the Tennessee Academy of Nutrition and Dietetics.
About the Presenter

Kristen Raspanti, BSHS, MOT, is the Exercise Coordinator and Group Therapist at The Renfrew Center of Philadelphia. She received her Bachelor's degree in Exercise Science and Wellness Management and her Master's degree in Occupational Therapy from the University of the Sciences in Philadelphia. Ms. Raspanti's background experience covers a wide range of settings and populations, including providing physical activity education and working with individuals with developmental disabilities. ​
Talk with a Program Information Specialist at the number above to learn more about our
services and to schedule an assessment. Or, fill out the information below and we will contact you.