Dysregulated: Using Evidence Based Principles and Trauma-Informed Conceptualization when Treating Clients with Co-Occurring Borderline Personality Disorder and Eating Disorders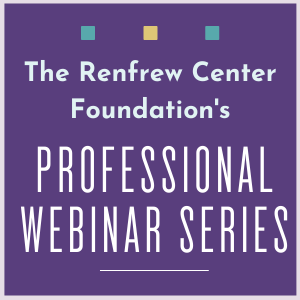 Dysregulated: Using Evidence Based Principles and Trauma-Informed Conceptualization when Treating Clients with Co-Occurring Borderline Personality Disorder and Eating Disorders
Wednesday, March 15, 2023 • 12:00 pm - 1:00 pm (ET)
Free | Professional Webinar
12:00 pm - 1:00 pm (ET)
Presented by: Laura McLain, PsyD, BC-TMH - Clinical Telehealth Supervisor and Training Specialist, The Renfrew Center
Held Online
Decades of research have revealed a connection between Eating Disorders (EDs) and Borderline Personality Disorder (BPD). A review of diagnostic criteria and treatment interventions will lay the groundwork for the presentation. This will be followed by an exploration of the necessary shift in conceptualization from a trauma-informed lens and integrating evidence-based principles when treating these clients. With this framework in mind, co-regulation in psychotherapy will be presented, addressing how the client-therapist relationship can provide healing experiences for this population both in outpatient practices and treatment centers.
About the Presenter

Laura McLain, PsyD, BC-TMH, is the Clinical Telehealth Supervisor and Training Specialist for The Renfrew Center. She received her Bachelor's degree in Psychology from California State University, Northridge and her Doctoral degree in Clinical Psychology from John F. Kennedy University. Dr. McLain has worked in a variety of settings and with several different populations including children with autism spectrum disorders and developmental disabilities, emerging adults, depression, anxiety, self-esteem and identity issues, addictions, and relationship issues.  She has a decade of experience treating eating disorders with special interest in college students, clients in midlife, co-occurring substance use, understanding and applying research to clinical practice, and managing safety concerns. In addition to her role at Renfrew, she also works in private practice providing clinical supervision and serving individuals suffering with eating disorders, substance use disorders, and trauma. Dr. McLain is an active member of the American Psychological Association (APA), the International Association of Eating Disorders Professionals (iaedp), is a member of the Psychology Interjurisdictional Compact (PSYPACT), and is a Board Certified Telemental Heath Provider.
Talk with a Program Information Specialist at the number above to learn more about our
services and to schedule an assessment. Or, fill out the information below and we will contact you.