Co-Regulation: Why Attachment Matters in Treating Eating Disorders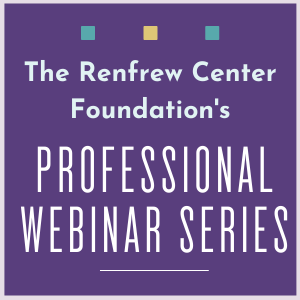 Co-Regulation: Why Attachment Matters in Treating Eating Disorders
Wednesday, December 13, 2023 • 12:00 pm - 1:00 pm (ET)
Free | Professional Webinar
12:00 pm - 1:00 pm (ET)
Presented by: Angela Kaloudis, LMHC, NCC, PMH-C - Clinical Training Specialist, The Renfrew Center
Held Online
There are environmental, social, biological and psychological factors that may influence the likelihood of developing an eating disorder. In addition to those influences, emerging literature has begun focusing on the relationship between insecure attachment and eating disorders. While one cannot go back and modify any early attachment injuries, this presentation will focus on how mutual, reciprocal, and growth-fostering relationships can help build a secure attachment and increase efforts in eating disorder recovery.
About the Presenter

Angela Kaloudis, LMHC, PMH-C, NCC, is a Clinical Training Specialist for The Renfrew Center and maintains a private practice for individuals located in Massachusetts, Vermont, and New York. As a clinical leader, she provides expert supervision and training to affiliated Renfrew residential and outpatient facilities on evidenced-based treatment, promoting best practice and quality of care. She received her master's degree in Mental Health Counseling and Behavioral Medicine from Boston University's School of Medicine where she went on to become an adjunct clinical instructor. She has a passion for treating individuals with eating disorders, trauma, and birthing individuals with Perinatal Mood and Anxiety Disorders. Angela is a professional member of the International Association for Eating Disorder Professionals (iaedp), Postpartum Support International (PSI), and the International Society for the Study of Trauma and Dissociation (ISSTD).
Talk with a Program Information Specialist at the number above to learn more about our
services and to schedule an assessment. Or, fill out the information below and we will contact you.