The Renfrew Unified Treatment for Eating Disorders and Comorbidity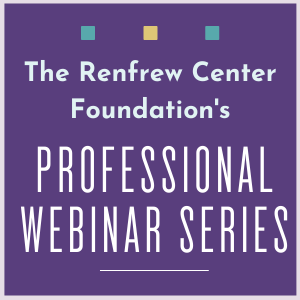 The Renfrew Unified Treatment for Eating Disorders and Comorbidity
Wednesday, July 14, 2021 • 12:00 pm - 1:00 pm (EDT)
Free | Professional Webinar
12:00 pm - 1:00 pm (ET)
Presented by: Melanie Smith, PhD, LMHC, CEDS-S - Director of Training, The Renfrew Center & Heather Thompson-Brenner, PhD, FAED - Clinical Advisory Board Member, The Renfrew Center
Held Online via Zoom
There is growing evidence that emotional avoidance is a maintaining factor for eating disorders, as well as co-morbid conditions such as anxiety, depression, substance use and trauma. Treatment which specifically focuses on targeting emotional avoidance and developing emotional awareness, tolerance and acceptance can provide an integrated, unified approach to resolving the myriad of symptoms often associated with the complex eating disorder client.
This webinar will outline the conceptual framework of a cutting edge treatment, The Renfrew Unified Treatment Model for Eating Disorders®, which focuses on building emotional tolerance through emotional exposure.
About the Instructor

Melanie Smith, PhD, LMHC, CEDS-S, is the Director of Training for The Renfrew Center. As Director of the Clinical Training Department, she is responsible for developing and implementing clinical training and programming that is consistent with emerging research and evidence-based practice. In this role, she provides ongoing supervision and consultation to clinicians across mental health disciplines for the purpose of continually assessing and improving fidelity and competence of treatment delivery of The Renfrew Unified Treatment Model®. Dr. Smith is a Certified Eating Disorders Specialist and Approved Supervisor and has extensive training in the Unified Protocol for the Transdiagnostic Treatment of Emotional Disorders (UP) and is a UP Certified Therapist & Trainer.
About the Instructor

Heather Thompson-Brenner, PhD, FAED, is a clinical psychologist in private practice in Cambridge, Massachusetts and serves on The Renfrew Center's Clinical Advisory Board. She founded the Eating Disorders Program at the Center for Anxiety and Related Disorders at Boston University, and directed the program for more than ten years. Dr. Thompson-Brenner is a former member of the research faculty in the Department of Psychology at Boston University, where she is now Associate Adjunct Professor. Her research and publications focus on the influences of patient personality traits, clinician emotions and attitudes, and patient race/ethnicity on eating disorder treatment, as well as the implementation of empirically supported treatments for eating disorders in clinical practice. Dr. Thompson-Brenner serves on the editorial boards of Psychotherapy and the International Journal of Eating Disorders. She is a Fellow of the Academy of Eating Disorders and is a recipient of a Patient-Oriented Career Development Award from the National Institute of Mental Health.
Talk with a Program Information Specialist at the number above to learn more about our
services and to schedule an assessment. Or, fill out the information below and we will contact you.