The Importance of Inclusivity: Best Practices of ED Treatment for LGBTQIA+ Clients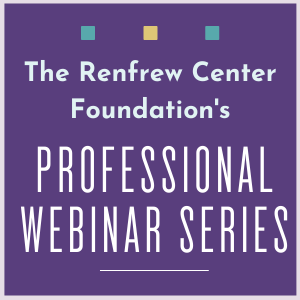 The Importance of Inclusivity: Best Practices of ED Treatment for LGBTQIA+ Clients
Wednesday, June 23, 2021 • 12:00 pm - 1:00 pm (EDT)
Free | Professional Webinar
12:00 pm - 1:00 pm (ET)
Presented by: Christine Vara, LCSW-C, LICSW, MDiv - Team Leader, The Renfrew Center of Bethesda
Held Online via Zoom
Eating disorders are complex—they arise from a combination of biological, genetic, psychological, social, and developmental roots. Studies indicate that not only do eating disorders disproportionately impact the LGBTQIA+ population but, in addition, the connection between sexuality, gender identity, body image, and eating disorders is steadily increasing.
In recognition of Pride Month in June, this webinar will provide attendees with a brief overview of the link between eating disorders and the LGBTQIA+ community, followed by a focus on research, intersectionality, interventions, and best practices for treatment. Attendees will explore the differences between gender dysphoria and body dysmorphia and learn how this disconnection may exacerbate a client's eating disorder. Inclusive skills to engage this population in treatment will be provided.
About the Instructor

Christine Vara, LCSW-C, LICSW, M.Div. (She, Her, Hers or He, Him, His), is the Team Lead at The Renfrew Center of Bethesda, MD. Christine provides clinical supervision, along with individual, family and group counseling for adolescents, families and adults with eating disorders. She received her Bachelor's degree in Psychology and English from Clark University, a Master's of Divinity from Pacific School of Religion, and a Master's degree in Clinical Social Work from Simmons University. Christine is particularly interested in working at the intersection of trauma, eating disorders and addiction, and how that connects to identities of gender, race, sexuality and religion/spirituality. Christine utilizes a variety of therapeutic modalities in her relational, strengths-based and trauma-informed approach.
Talk with a Program Information Specialist at the number above to learn more about our
services and to schedule an assessment. Or, fill out the information below and we will contact you.