(Re-broadcast) Carrying the Weight of it All: Navigating 'Not Sick Enough' Barriers to Eating Disorder Treatment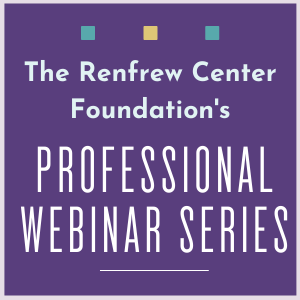 (Re-broadcast) Carrying the Weight of it All: Navigating 'Not Sick Enough' Barriers to Eating Disorder Treatment
Wednesday, August 11, 2021 • 12:00 pm - 1:00 pm (EDT)
Free | Re-broadcast
12:00 pm - 1:00 pm (ET)
Presented by: Irina Gelman, PsyD - Site Director, The Renfrew Center of West Palm Beach
Held Online
Individuals suffering from an eating disorder often exhibit low self-esteem and decreased feelings of self-worth. For patients, these destructive thoughts often translate to feeling underserving of treatment, assuming they are 'not sick enough' to receive care, and/or denial. To complicate this further, some may believe they do not need to seek support because they are functioning normally in daily tasks such as school or work requirements and family obligations. As a result, eating disorders tend to worsen when treatment is not prioritized.
This webinar will address common barriers to accessing treatment including constant comparisons with others, thinking traps that confirm negative self-beliefs and the pressure to put everyone but themselves first. Attendees will learn how to discern when their clients' destructive thoughts and behaviors necessitate a higher level of care and will be provided with tools to navigate these pitfalls.
About the Instructor:

Irina Gelman, PsyD, is the Site Director at The Renfrew Center of West Palm Beach. She received her Bachelor's degree in Psychology from Stony Brook University and her Doctoral degree in Clinical Psychology from Nova Southeastern University. She specializes in the treatment of eating disorders at all levels of care from inpatient, residential, partial/day, IOP, and outpatient. Dr. Gelman first joined The Renfrew Center of Coconut Creek, FL in 2013 and later completed her clinical internship with Renfrew from 2015-2016. She then moved to Virginia where she worked at an inpatient eating disorder unit at Dominion Hospital as a Primary Therapist and a Program Manager. Since moving back to Florida, Dr. Gelman has returned to her roots with Renfrew. She is a member of the South Florida chapter of iaedp.
Talk with a Program Information Specialist at the number above to learn more about our
services and to schedule an assessment. Or, fill out the information below and we will contact you.