I Can Do Hard Things: Overcoming Clinician Fears About Exposure Therapy for Eating Disorders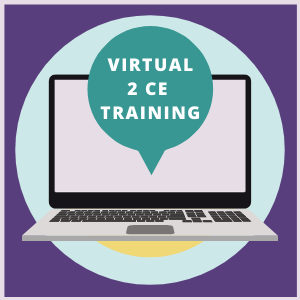 I Can Do Hard Things: Overcoming Clinician Fears About Exposure Therapy for Eating Disorders
Friday, June 10, 2022 • 8:45 am - 11:00 am (ET)
Free | Live Interactive Training
Offering 2 CE Credits
Note: This online training is open to professionals residing in New Jersey only.
Presented by: Melanie Smith, PhD, LMHC, CEDS-S - Director of Training, The Renfrew Centers
Held Online via Zoom

Attendees will need access to wi-fi, and a device with a camera, microphone and audio capabilities.

About the Training
Individuals with eating disorders often experience their emotions more intensely, more frequently and out of context. Therapeutic interventions such as exposure therapy that approach, rather than avoid, difficult emotions can increase emotional tolerance and decrease the drive to use eating disorder behaviors. Despite strong empirical evidence supporting the use of exposure therapy for a wide range of emotional disorders, clinicians may be hesitant to implement exposure work due to their own fears about the process.
This 2 CE training will explore common clinician worries about implementing exposure therapy with the aim of de-mystifying the process and building clinician competence and self-efficacy around this important clinical work.
Learning Objectives
Attendees will be able to identify three common clinician concerns about conducting exposure therapy and provide a counter point for each concern.
Attendees will be able to describe two benefits of utilizing exposure therapy interventions for eating disorders.
Attendees will be able to explain the rationale for minimizing clinician "safety behaviors" to optimize exposure therapy outcomes.
Timeline
1st Hour
Opening Activity: Therapist Beliefs about Exposure Scale
Theoretical Overview: Eating Disorders as Emotional Disorders

Exploration of shared, underlying core mechanisms of eating disorders and other emotional disorder (i.e., anxiety, mood, somatic, trauma, substance use disorders)
Function of eating disorder symptomatology as emotional and experiential avoidance & the role of negative reinforcement
Research Overview: Empirical Support for Exposure Therapy Interventions

Types of Exposure Interventions
In vivo, imaginal exposure, virtual reality exposure
Special exposures for eating disorders

Interoceptive exposure
Food exposure
Body image exposure

Problem: Research-Practice Gap and low rates of dissemination & implementation of evidence-based interventions, such as exposure therapy
Common Clinician Concerns about Exposure Work

Activity: Attendees will reflect on their findings from taking the Therapist Beliefs about Exposure Scale.
Counterpoints & evidence to address clinician worries
How therapist anxiety manifest as Safety Behaviors
2nd Hour
The How: Mechanisms of Change in Exposure Therapy

Mindfulness as a necessary pre-condition to exposure
Proper structure
Exploration of expectancies before and after
SUDS & emotion tracking
Desirable level of difficulty. Where to start? When are you "done"?
The case against flooding or moving too fast
Expected safety behaviors & why "now is not the time"
Variability, repetition and the grand prize: generalizability!
Clinician behaviors: managing your own anticipatory anxiety
Combining exposure types for optimal tolerance building
Detailed Case Example:

Complex eating disorder patient in which each of the exposure interventions were utilized (separately and in combination) to attend to her unique presentation and concerns. Examination of therapist beliefs, behaviors and issues addressed in clinical supervision.
Accreditation
The Renfrew Center Foundation has been approved by NBCC as an Approved Continuing Education Provider, ACEP No. 5852. Programs that do not qualify for NBCC credit are clearly identified. The Renfrew Center Foundation is solely responsible for all aspects of the programs.
The Renfrew Center Foundation is approved by the American Psychological Association to sponsor continuing education for psychologists. The Renfrew Center Foundation maintains responsibility for the program and its content.
Continuing Education Credits for registered dietitians are approved by the Commission on Dietetic Registration.
This program is Approved by the National Association of Social Workers (Approval # 886357583-8226) for 2 continuing education contact hours.
New Jersey Social Workers: I Can Do Hard Things: Overcoming Clinician Fears About Exposure Therapy for Eating Disorders, Course #4205, is approved by the Association of Social Work Boards (ASWB) Approved Continuing Education (ACE) program to be offered by The Renfrew Center Foundation as an individual course. Individual courses, not providers, are approved at the course level. State and provincial regulatory boards have the final authority to determine whether an individual course may be accepted for continuing education credit. ACE course approval period: 04/26/2022 – 04/26/2024. Social workers completing this course receive 2 General Social Work Practice continuing education credits. Please contact Kaitlin McFadden at 1-877-367-3383 for more information on the NJ Course Approval.

Participants must attend the training in full, and complete an evaluation to earn CE credit.
Participants will be able to interact in the training by using the chat function and participating in live Q&A.
To request ADA accommodations please contact Kaitlin McFadden at

[email protected]

This course content is at the beginner to intermediate level.
Registration will remain open until 8:45 am (EST) on Friday, June 10th.
The target audience for this seminar is all clinicians who treat eating disorders – social workers, dietitians, therapists, psycholo­gists, counselors, and other eating disorder and mental health professionals.
Attendees will receive a survey evaluation following the presentation to complete for CE credits. CE credit/contact hour certifi­cates will be sent via email within two weeks after the online seminar evaluation has been completed.
For questions, please contact Kaitlin McFadden at [email protected].
About the Presenter

Melanie Smith, PhD, LMHC, CEDS-S, is the Director of Training for The Renfrew Center. As Director of the Clinical Training Department, she is responsible for developing and implementing clinical training and programming that is consistent with emerging research and evidence-based practice. In this role, she provides ongoing supervision and consultation to clinicians across mental health disciplines for the purpose of continually assessing and improving fidelity and competence of treatment delivery of The Renfrew Unified Treatment Model®. Dr. Smith is a Certified Eating Disorders Specialist and Approved Supervisor and has extensive training in the Unified Protocol for the Transdiagnostic Treatment of Emotional Disorders (UP) and is a UP Certified Therapist & Trainer.
Talk with a Program Information Specialist at the number above to learn more about our
services and to schedule an assessment. Or, fill out the information below and we will contact you.