Body Image Collaboration in a Higher Level of Care: A Therapist's and Dietitian's Perspective (Re-broadcast)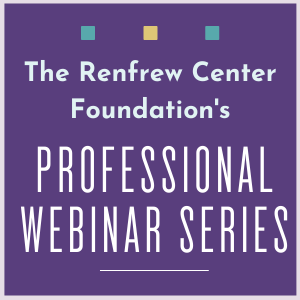 Body Image Collaboration in a Higher Level of Care: A Therapist's and Dietitian's Perspective (Re-broadcast)
Wednesday, July 27, 2022 • 12:00 pm - 1:00 pm (ET)
Free | Professional Webinar
12:00 pm - 1:00 pm (ET)
Presented by: Jana Ross, LMHC & Christine Laker, MS, RD, LDN
Held Online
Body image has often been referred to as the last stage in eating disorder recovery, possibly due to the myth that it can only be explored once the patient's behaviors are stable. Often, there may be confusion among members of the treatment team as to where body image falls within the scope of practice.
This webinar will examine how The Renfrew Center Unified Treatment Model for Eating Disorders® integrates body image work at higher levels of care, across disciplines and in Individual and Group Therapy. This presentation will be rooted in a weight-inclusive framework.
Please note: This webinar is a re-broadcast and not a live presentation.
About the Presenter

Jana Ross, LMHC, is a Primary Therapist at The Renfrew Center of Massachusetts. She received her Master's degree in Mental Health Counseling and Behavioral Medicine from the Boston University School of Medicine. Ms. Ross specializes in the treatment of eating disorders and body image concerns. Prior to joining Renfrew, she worked with children and adolescents in a general PHP, as well as in healthcare and consumer marketing/public relations.
About the Presenter

Christine Laker, MS, RD, LDN, is a Registered Dietitian at The Renfrew Center of Massachusetts. She received her dual Bachelor degrees in Nutrition Science and Dietetics from Indiana University, her Master's degree in Nutrition and Health Promotion as well as her dietetic internship with a specialty in Eating Disorders at Simmons University. Ms. Laker currently works in various levels of care helping those with eating disorders, disordered eating and body image across all lifespans and backgrounds. She has a specific interest in seeing how weight stigma impacts eating disorder care and treatment and access to ethical care in all avenues of our healthcare system.
Talk with a Program Information Specialist at the number above to learn more about our
services and to schedule an assessment. Or, fill out the information below and we will contact you.